The Nation

recently 
launched a forum called
Reimagining Socialism
. Over at
Union Gal
,
bendygirl
drops the S-Bomb in the first sentence of her latest post. The cover of
Newsweek
recently declared: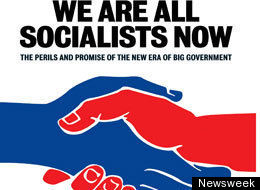 Socialism, the idea that the economy and society should be run democratically to meet public needs, doesn't have to be talked about in whispers anymore. There are a few reasons for this. 
First, we're in the middle of another capitalism-induced disaster, so people are wiling to look at alternatives. We're living in the Era of Bailouts. Even President Bush pumped $700 billion of bailout money into the financial sector last year. It's beginning to dawn on people that if the pillars of the economy require public money to keep them standing, maybe they should also be under some measure of public control and run for the public good. 
Second, we just witnessed a presidential campaign where the Republicans repeatedly characterized the Democratic candidate as a socialist. It was apparently a major strategy of the Republican campaign. Then the Democratic candidate won a landslide victory. During President Obama's first few months in office, Republicans and the right wing media have labeled most of his agenda as socialist, and the president has remained immensely popular. So the former toxicity of the S-word is wearing off, thanks largely to conservatives' repeated use of it. (With enemies like these, who needs friends, huh?) Or, as Barbara Ehrenreich and Bill Fletcher Jr. point out in
The Nation
:
"If 'capitalism' is represented by right-wing populist blowhards like Limbaugh and Beck, while 'socialism' bears the far more appealing face of Barack Obama, the choice is not too difficult."
Finally, the Cold War is over. Conservatives can no longer argue that America needs to stand as a polar opposite to all things socialist in order to win some global ideological struggle. That struggle should never have been against "socialism" in the first place, by the way, but against authoritarianism. But for much of the last century, the Left in America was hamstrung every time the Right pinned it to the Soviet Union and authoritarian communism. Basic movements for justice and sustainability like the civil rights movement and the environmental movement were derided as "communist." Now the Soviet Union is dead, and we can do what makes sense rather than rush to the right for argument's sake.
So if "socialism" is making a comeback, the Left needs to articulate what we mean by socialism. At every turn, conservatives will try to equate socialism with Stalinism. They'll try to paint democratic socialism as authoritarian communism a la North Korea. That should be easy enough to dismiss. But we'll need to make it clear that socialism doesn't have to mean giant, unwieldy government. It doesn't have to kill the incentive to work hard. And it absolutely doesn't have to consist of democratic bailouts for anti-democratic institutions, as we've recently witnessed. (The Newsweek article, intentionally or not, makes the latter mistake.)
To me, this is an exciting time. Bold ideas are in fashion again. The political debate won't be an argument over minor tweaks and adjustments. Whether or not you consider yourself a socialist, if you're reading this blog you're probably a progressive. And whatever stripe of progressive you may be, the rising popularity of socialism is good news. I think history shows that the possibility (or threat) of

fundamental

 systemic change is crucial to winning even the incremental changes. (More on this later.) So in the end, if all we want to do is slightly raise taxes on the rich or tighten regulations on business, with "socialism" on the table, we'll be in a much stronger position.