Wow. The Iranian government banned the rally. The government threatened to shoot the marchers.
And the people still came.
MSNBC estimates that a million people, stretched over five miles, marched in Tehran.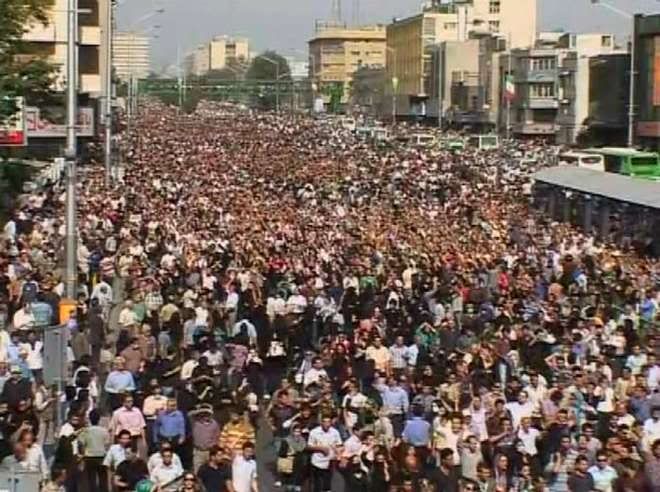 At least a few people were killed by police and pro-government thugs. But the protesters strike me as remarkably patient. During the main march, they were chanting "Police, police, thank you!" for not attacking the march. There are a few videos of protesters allowing and helping police to escape the crowd. They are doing everything in their power to keep the movement nonviolent. The opposite is true of the Iranian government. There are many gruesome videos online of the pro-government militias and thugs and plain-clothes police attacking unarmed people. There are reports that the government is
bringing in foreign Hezbollah fighters
to do more dirty work.
I've been looking into what we can do to help the Green Revolution. And one of the biggest things is simply to help keep the spotlight on this story. The mainstream media is beginning to come around and is covering this in a more accurate, more favorable light, instead of just stupidly saying that Ahmadinejad won and people are angry (which by the way is what Ahmadinejad says).
"It'd be great if all Iranians living outside Iran would ask their non-Iranian friends to change their Facebook pictures to green. Facebook has a lot of followers and everyone would hear the voice of Iranians."

(Green was the color of the opposition leader Mousavi's campaign and has become the color of the resistance.)
You got it. Let's use this picture, which I grabbed from
Andrew Sullivan
(who came under cyber attack from the Iranian government today).
(Use this as your Facebook profile pic.)
F
a
c
e
b
o
o
k
o
r
o
t
h
e
r
w
i
s
e
,
f
ind some small way to be a part of this. This is a potential turning point in history, where a diverse people's movement has a chance to topple a brutal authoritarian regime.
More to follow as things unfold.